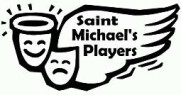 is a Community Theater group, welcoming all ages from surrounding communities to audition or take part backstage for our productions. We produce one musical a year, with auditions in early June and a show in November.
Our Board consists of: Rose Stella (Producer, Asst. Director), Frank Jackson (Director, Musical Director), Ken Butcher (sound/lighting, percussion), Donna Martinez (Stage Manager), Renee Lisowski (House Manager), Becky Moriarty(Program/Ad Manager) Jeff Bennett (Ticket Manager), Kim Cassidy (Concessions and Accounting), Eric Elmendorf, (Lighting), Carolanne Elmendorf, (Photograpy) and Madeline Moriarty (Junior Board Member).
Some of our productions: "Sound of Music", "Oliver!", "Annie", "Mary Poppins" and "Fiddler on the Roof" (see website for full list).
We welcome volunteers in all areas of production (set construction, backstage, make-up, etc.) If you have any interest in these areas, please call Rose at 413-525-0371.

The St. Michael's Youth Players began in the Spring of 2015. The Group, which is an all-inclusive community, produces a musical production each Spring for youth ages 7-25 of all ability levels. Auditions are typically held in January. Visit our website below for more information.
Click here to Visit the St. Michael's Players Website now!

Follow Us on Facebook!